"Grene Sogn" is as a parish very old. Normally it is said that the division of Denmark into parish goes at least 800 years back.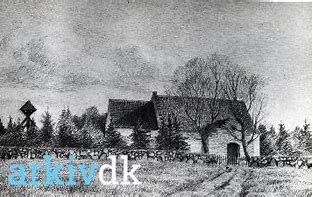 The first known church in the Grene parish was probably build around year 1200, but we do not have documentation about the origin. It was located just before the stream you pass when you drive to Hejnsvig. (Adress Annexvej 1B Billund). You can still find the old graveyard there. The old church was broken down in 1891 and a new church build where you find it today (Grene Kirke). In this church you can still find things from the old church as the baptismal font and the pulpit.
Grene sogn was through centuries a very poor region with only few people living here. The people were living in small, scattered clusters of farms with typically only 2-4 farms in each cluster. Some are today known as Plougslund, Elkjær, Grene and Almstok.
Billund was also one of those. As late as 1880 Billund consisted of only 8 farms and an inn. The development took place end of the century and escalated after 1914 where we got railway connection to Vejle and later again when LEGO was established.
But you can learn a lot more about this if you visit the archive in the Billund Center or The Old School (Den Gamle Skole).